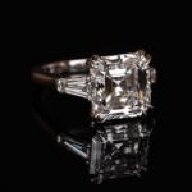 Joined

Nov 4, 2013
Messages

132
Hi Everyone!
It's been a while since I've made an acquisition, but wanted to share my latest. They are button South Sea pearls, very white and shiny in real life. 13.9 mm. I initially wanted all round, but I found the buttons (which aren't too flat) sat better on my ear and were more comfortable, and didn't stick out too much. Plus, more affordable and you can't really tell that they aren't perfect round unless you really step up to my ear

I plan on wearing these to dinner...they are on the larger side for earrings I normally wear, but I find that when I have my hair styled nicely and full makeup on, they look just right.
I got them from the Los Angeles jewelry district, a shop called Seven Seas Pearls. Georges and his wife Rula are the owners - they make their money mostly in wholesale but have a beautiful little showroom with an amazing selection. Prices are extremely reasonable, I never dreamed I'd get larger pearl earrings for the price I paid. And Georges is so knowledgeable about pearls! He lived in Japan for a while to grow his family pearl business, and speaks Japanese, too! I know I sound like an advertisement, but I honestly just had the best time there. At the same time I was there, there was a lady who had a vast pearl collection built through Georges, and I'm pretty sure I started drooling when she was describing to me the large pearl projects that she had Georges creating for her...he took weeks to source all the pearls, and he did them individually for some projects. My goodness, what a dream... I digress...
Initially I was going to design something with small pave diamonds, but I fell in love with these larger studs...the benefit of getting studs vs custom at the time was that I'd have them for my impending wedding

Without further delay, here are some snaps I took...sorry for the poor lighting. The blurry one is from the actual big day, to give you a real life shot. Obviously my photographers aren't ready with the professional photos haha, this is just the best I had

Thank you to everyone for giving me inspiration and letting me see your beautiful pearls. I've been a long time lurker of the pearl section, and am now proud to be a first time poster in this category!