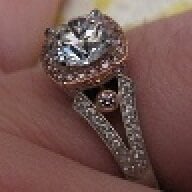 Joined

Oct 9, 2007
Messages

1,071
Small rant, but I had to get it out otherwise I'll be mad at him all night!
I went to pick him up from work at 6 (1/2 hour drive). It is raining pretty hard, and I didn't bother to straighten my (chin length) hair, and put on an old sweatshirt, and a baseball cap, and off in the rain I went. Well, I get there, and he's all "what's with the bball cap, and sweatshirt, I was planning to hang out w/ my coworkers."

I say well, we'll go home, and I'll change, and we can meet them later. But DH says, no we can't do that bc the they are near work, and it's an hour to go back and forth -- can you drop me off, change and come back?


Fine, we go to drop him off, and then he tells me that they probably won't be there by the time I get back, and are going somewhere else for drinks after. I get really pissed now, because I'm thinking when the h*ll am I supposed to eat?? He gives me a shpiel about how I can have dinner wherever they go for drinks.



So now, I will have to have shlepped in the rain for an hour and a half, and look like the a$$h*** because I will have to insist on going somewhere that has food. All this bc DH didn't feel the need to mention that he had plans today



WHAT A MORON!
ETA
: On top of this, now I will probably have to meet them in downtown San Jose, where I don't know my way around. This is particularly problematic for me because I have a hard time seeing the road when it's dark -- add rain to it, and it becomes impossible. Ugh!