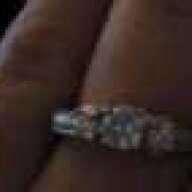 Joined

Nov 18, 2006
Messages

86
So its been a while so i figured i would do quick story of my situation. my and my bf have been dating almost 3yrs and living together almost 1 1/2 yrs. we discussed marriage many times and we even gotten as far as to setting a date. But its not official, due to the ring. We do have a wedding date in next march but i havent done the looking for the dress and officially telling extended family till that time.
Finances were very tight in the begining with moving out and all the extra bills and both of us starting new professions. my mom gave us her first engagement ring to my father( they have recently upgraded hers) to use just the stone.

Well recently it was sitting there tortuing me in a common drawer we both use. Well i asked him to move it in january cuz i would know when he took it. did he listen to me noooooo. Well i went to put something away in that drawer last night and noticed the box was gone..

do you think this is a good sign? does this mean the day i have been waiting for, for my entire life is on its way? i am so exicted to think it may be soon but i am also trying not to get my hopes up. Am i getting my hopes up?



PLEASE Help with your thought?!!!