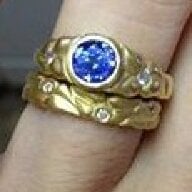 Joined

Jan 23, 2008
Messages

3,528
So...I can''t give out to many details because the moeny hasn''t exchanged hands yet...but details will come!
I have great news!
Someone (yay me!) found an authentic designer setting she fell in love with when she tried it on at a jewlery store..but couldnt afford though another source! And guess what! I''m getting in it platinum...for less than the cost of it in white gold at a jewlery store!
YAY ME! But beacuse the $$$ hasn''t changed hands, I''m not giving anything up! I dont want a lurker to come and steal it right from under me!
The best part is...someone I was working with at some point during the duration of my e-ring has verified all the information is ture and it''s a real deal! Not a fake! And they are willing to be the 3rd party thoughout this transaction so that way both parties are safe! And they are the store the person bought the ring from!
Whats even better is that I dont have to get a new head or anything! It''s made for my stone! The only bad this is that I have to get sizing beads because my finger is so small, I dont dare size it 1.5 sizes and compromise the setting.
So, my question to ya''ll is....the sizing beads would only be for .5 of a size. Are they uncomfortable?
If my wedding band is the correct size, does it look funny to have a band fit correctly, and then have the e-ring with sizing beads? I mean, is it going to bug me? Or look funny when I look down at it (meaning they dont sit at the same level on my finger)
Thanks guys! Sorry to be so vague! I will give more deatails as soon as the ring exchanges hands!
But I will tell you this...this is the deal of the year! Maybe the last 100 years!
You wont beileve it when I tell you the who, the what, the where and the PRICE!
YAY! I''m so happy!