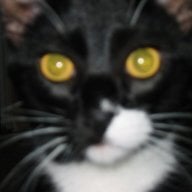 Joined

Jul 2, 2008
Messages

1,667
So here''s the background:
SO and I decide we''re going to have a low-key Valentine''s Day. No cards, no crowded restaurant, nothing "typical." I ask if he''d mind going on a little road trip to a small eclectic town just over an hour and a half away. "Sure, why not?" is his answer. Now, I really wanted to go look at the little art galleries and shops and have a nice lunch, but I must admit, I knew there was a jewelry store in the town that I always see commercials about. Okay, he knew it too and although we''re going to NYC next month to shop for the ering, he humored me and took me to this little store.
The commercials for this place always end with "remember, never buy a diamond without looking at it under a microscope." So I thought it would be a great store with honest salespeople. Long story short, I clearly knew more about diamonds than any of the salespeople. I told them we were looking in the two carat range, but the biggest stone they had was 1.62 (and the GIA cert was old, so there wasn''t even a cut grade).
I quickly gave up hope that we''d find any promising diamonds at this place. So I moved on to gemstones. I found some gorgeous pink sapphire earrings and a fantastic amethyst ring but they had this really great aquamarine ring (in my size, in white gold) for around $500.
(Here''s why you need to slap me):
SO says "well, pick out what you want and we''ll get it. Do you want that aquamarine ring?" He gets in these moods every so often where he''ll offer to buy something for me but if I don''t accept, offer is off the table within 10 minutes. I walked around the store with the ring looked at it in different lights, liked it (didn''t love it) and eventually said "thanks but no thanks." Now of course I''m kicking myself. I got home and loaded up the Tiffany''s website and showed him the aquamarine stacking rings that are around $350. Too late. Offer was off the table.
Dang! I should have known better! Would have been a romantic story Vday story....