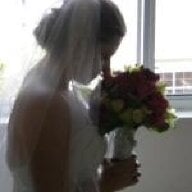 Joined

Feb 20, 2009
Messages

5,496
Well, last night after his nephew''s 1st birthday party, we went over to my dad''s house (we actually have our own place together) because he had to talk to my dad. When I asked what for, he said he was asking for car advice. I then proceeded to ask why he couldn''t do it on the phone, around me, blah, blah, blah.
In any event, we go over there, and he pulls my dad in the dining room, and after about 5 minutes, they comes back into the living room. We grab our things, and walk out to the car. He then says "Do you wanna know what I had to talk to him about?" I said "If you think I need to know, sure." He then says "Well, I asked your dad for your hand in marriage, and the only reason I''m telling you is because he asked me to speak to your mom about it, and I don''t want to do that without you. I believe it''s important that we both talk to her about it."

(my mom is an EXTREMELY negative person; everything she says is followed by a bout of every negative answer in the book!)
We talked to her, and surprisingly, she was happy for us.
Now comes the hard part....waiting for the ring!!!!