Joined

Jun 10, 2013
Messages

363
Hello everyone, I have been collecting some fancy colored diamonds spontaneously and I thought I'll share for fun and also post for ideas. Initially, I started with just 2 diamonds - a pear and a cushion - and the original idea was to do a petite two-stone halo bypass ring or petite sort of Chaumet Joséphine. But in the end, I decided to expand the collection and increase design possibilities.
So, here are the stones in two different layouts. I'm not good with gemstone photography, so I had to edit to make the stones' color look as close to real life as possible. As such, the background is compromised and tinted. These are very small diamonds - just about 3mm+ at its longest.
- the middle stone is a fancy pink-purple cushion (0.22)
- the sides are fancy grey-blue pears (both 0.09) & fancy pink melee (0.02)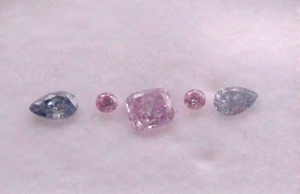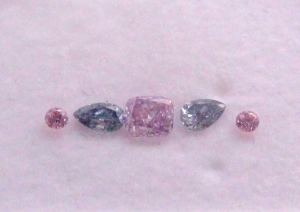 Please feel free to drop comments or tag photos regarding designs too. I'm happy to have general ideas or details (such as the metal color, positioning of the stones, reorientation of stone from horizontal to vertical, adding halo, whether this combination of stones work together or not, milgrain, prongs or bezel or not etc.)
Thank you for looking!