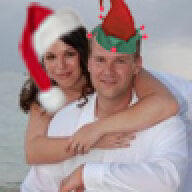 Joined

Jan 8, 2007
Messages

3,962
What do you lovely ladies get for V-Day this year?
My FF COMPLETELY surprised me. Last year he waited until the last second and brought me home some flowers, which was nice...but I sort of wished he had put a little thought into something for me.
This year he blew me away with new diamond earrings and a matching diamond necklace!
It is very cute and dainty...perfect for casual wear also, which is the type of jewelry I tend to like. He got it from a well known chain B&M store, which I know is a big no-no for diamond rings, but I think is just perfect for little trinkets like these.
The necklace is white gold with a tiny tear drop shaped pendant that contains one round diamond in the center. I'd say it is no bigger than a quarter carat, but what do I know. (Is it normal for big chain stores not to tell you the stats of their diamonds on small jewelry like this? Cause they didn't give him any, and he didn't ask. I wish he would have because I would have liked to use the information for comparison. My mom said it was rude that I asked him in the first place. Now I'm digressing...)
The earrings are the same design, white gold....tear drop shaped drop earrings. So cute. I'm in love!!! So dainty. I would love to post some pics but I can't find our memory card!

So anyway.....did any other ladies get anything special??