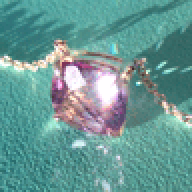 Joined

Mar 25, 2008
Messages

5,070
S''s Grandma had a stroke yesterday and was taken via helicopter to the hospital. She lives alone on a farm in Minnesota but her brother doesn''t live far from her on his own farm. I guess he tried calling her yesterday but she didn''t answer so he went over and found her on the floor unresponsive. As of yesterday, they said she is paralyzed on the right side and was awake for a while but unaware of her surroundings.
My family and I had to tell S about it last night because S''s Mom called my Mom to tell her about it and she wanted us to talk to S so he wouldn''t have to hear it over the phone. I knew he would take it hard because his Grandma is like a Mother to him. He spent many summers on the farm with her and she partially raised him. When we told him I could tell he was in complete shock with tears in his eyes and he couldn''t swallow very well. Poor thing

He is thinking about flying out to Minnesota to see her incase it gets worse and even if it doesn''t get worse, she may not be her usual self as even if she survives there could be brain damage and if she is paralyzed, not sure if she could recover or not. We will find out more today as they will do a ct scan.
She isn''t the healthiest of people with various problems including diabetes. In her mid 70''s. But it is still so hard, you know? When my Mom told me over the phone yesterday about it (after his Mom called my Mom) my heart sank and I felt so sick to my stomach, I started crying. My heart is aching for S because I know how much Grandma means to him. I can honestly feel his pain (quite literally) He wouldn''t eat last night and he just kept holding and hugging me with tears in his eyes telling me I''m so sweet to him...

This is so terrible because I know he is thinking about his Dad too. He had a massive freak stroke and passed away back in 2003. The Grandmother is his Dad''s Mother-In-Law so there is no relation but I know its running through his head right now. The irony in all of this is that his Grandma is in the exact same room his Dad was in when he passed away......
Please, please, please send dust for my sweet love and his dear Grandmother...