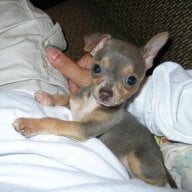 Joined

Dec 16, 2007
Messages

5,184
This topic has been brewing with me for a while now, and I have had serious debates with myself over posting it here just because it''s very sensitive for me... But today, after a few minute conversation, I decided I need some objective advice...so please, bear with me, this could get long...

Many of you know that my dear friend L is going through a divorce--well, she''s unoffically seperated. L and I have been best friends since we were 8...so, we''ve been in each others lives for a long time...and her friendship, to me, means the world...I consider her family more than I think of her as a friend.

L has been married, collectively, for about 6 years. She married young because she was pregnant, and her husband R has been a really inconsistant part of her and her daughter lives. About a year after they orginially married, L and R divorced because he was heavily involved in illegal drug use. R has battled addiction issues since the beginning of their relationship--he''s suffered under every addiction from sex to crack, and alcohol and gambling. R has stolen money from their daughter, he has run up credit cards buying things that he could exchange for drugs when he couldn''t find cash. R is known for disappearing for days at a time...two examples of this behavior is, on L''s 24th birthday R turned his phone off and visited a strip club for over 24 hours straight, spending upwards of $500.00. Another time he pulled his vanishing act, was on L''s graduation weekend...we all visited a swanky hotel downtown, after several hours of celebration, we all retired to be...everyone but R...he snuck out of the room, and was no one to be found until late morning the next day. R is incredibly inconsiderate when it comes to his family...he will steal from them, lie to them, and can become extremely verbally abusive. Christmas 2007, R got a DUI and cost the family thousands of dollars they didn''t have, just to turn around buy himself a Sony Play Station as a Christmas gift.

Everything came to a head on Halloween of this past year. L and R decided earlier that summer that in order to save their marriage they would attends couples counseling...part of the plan was for R to quit drinking. Over the Halloween weekend, R was unable to get off of work, so L came to visit alone...R took the opportunity to have a "obligation free" weekend, and went on a serious drinking binge that included multiple strip clubs, and smoking weed. Once the truth came out as to what R was doing while L was away, she decided she could no longer be in the marriage, and unoffically seperated herself from him. L gained strength and finally confessed to her family the truth about what R had been doing...the disappering, lying, stealing...they knew none of this. They were very supportive and offered L as much help as they could...however, they told her that since they paid for her first divorce, L would have to "figure" it out. Tough love.

Now, it gets complicated, because L and R live with R''s parents. It''s a situation of convience for L since they willingly provide free child care for the daughter. Together with R''s parents, L kicked R out, which essentially didn''t matter because he went on a serious partying binge.

So...heres the situation...as of late, L has become icy. I was at a complete loss. She would avoid my calls...even picking them up, and hanging them up. She would text me one word replies. And if I told her something new or exciting about my life, she would go into this "one upping" thing....like, for example, I told her about this book I was reading...and she was like "that''s nice, I''ve already read 3 books this year...and I''m already on my fourth"...just petty stuff. Well, come to find out, she and R are "working it out". And I suddenly feel like I cannot be around her anymore...I feel frusterated and angry, because for years I''ve listened and supported and cried with her...and now it''s like none of that mattered. I feel like, if she takes him back, our friendship will be over. I will always love L...but R isn''t welcome in my life I cannot trust him, if he would steal from his family, what would stop him from stealing from me? Besides that, R said horrible things to me, blaming me for their seperating...

**I have a lot more that say, but a meeting snuck up, and this took longer than anticipated to write, I will hopefully finish this ASAP...but, in the mean time, what do I do?

TIA.