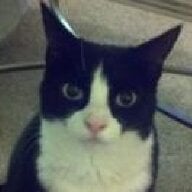 Joined

Aug 8, 2005
Messages

40,225
My job offer is FINALLY being processed as we speak.

And it''s for more than I was hoping! Not much more... but still, MORE is MORE after all. Plus stock options, which I wasn''t expecting. I''m not getting re-imbursed for my moving expenses though. But that''s okay... my tax return plumped up because of that... so it evens out a bit.

I''m so relieved. When they hired me here as on a temp req. I guess someone forgot to do the math... when they finally figured out what my hourly wage is equivalent to in salary... they were surprised and not in a good way.

After I moved out here and everything though... I was so worried they''d come in with a low offer. Apparently our VP went to bat for me, as he''s really happy with my performance... my manager says he just kept throwing the word "Georgetown" around until it got him results. Good to know that exhorbant tuition was good for something!

I''m not even excited or happy. Which is strange ... just relieved. Like a HUGE weight has been lifted off me.