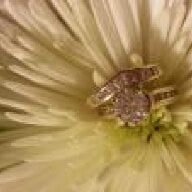 Joined

Mar 8, 2010
Messages

1,539
But I've had great luck. Well, except when some textbooks I sold got lost in the mail, but that's a story for another day.

Anyway, I think I've found a pair of earrings I really like. I've made an offer, and the seller countered just a little higher than that, but still lower than the buy it now. The seller has stellar feedback, and regularly sells higher-end items like diamond jewelry.

Any quick opinions? I'm not a huge stickler for clarity. Honestly, I kind of like being able to see a little tiny something in there. It kind of gives me comfort to know that my diamonds are unique and quirky, just like me. Now, I'm not saying I like frozen spit, but you get my idea. How much would you pay for a pair of earrings like this?

So, here are the details. The studs are 1.5 ctw, SI2 clarity, and H-I color. Stones are 5.87mm in diameter. Finally, here's a picture!