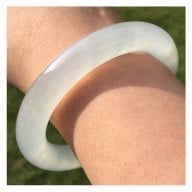 Joined

May 1, 2009
Messages

4,178
michellechan2211|1445519340|3941007 said:

YC said:

Icy Jade, did you go to the jewellery fair? I went today and it was a fruitful trip. Golay had quite a number of nice loose pearls and I bought several, including a pair of hard to find natural colour pistachios. Also bought finished pearl jewelry from Eiko.

Thirding the call for pictures! I need to see what sort of goodies people have managed to get at the fair haha. I'm hoping to take some time off from writing my thesis to go down :<
Go down soon! You'll be able to find nicer stuff before ppl snatch them up.
I've my loots in front of me as I'm typing this. Really happy with my latest pearls.
Now off to search for inspirations on how to set them.
Oh wait lemme highlight a totally gorgeous strand of Tahitians at Arkhe (booth e105). Passed them up cos it's similar to my multicolored wave strand but if anyone is interested this strand is nice n much cheaper than what I'd paid (think it has more surface blemishes n not as round but it's still a really nice strand with strong body colors).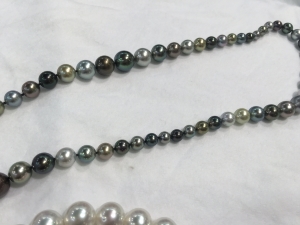 Not the best pic but it's much nicer in person.
I also like the Tahitian ombré strands at TPC (booth e125).
Of course there is the dark blue at Golay (booth g107), and the GSSP n Wssp strands at Eiko (booth e112). Oh and Eiko has those mixed crystal studded beads strung with akoyas that I thought were quite nice too.