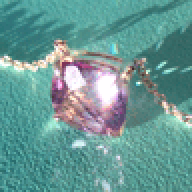 Joined

Mar 25, 2008
Messages

5,070
I see there were some engagements across the board! Congrats! But what about everyone else? How was your day?
As for me and S, we had a lovely day. Didn't do too much (trying to save money right now) but we had a small lunch (some pizza) for and caught all of The Dark Knight on tv so we watched that. Then we left for an early dinner at Carino's Italian Grill. Which was great because we left just after 4pm to 'beat the crowd' and we sure did! Because everyone and their Grandmother came pouring in at 5!

So we were eating a wonderful meal and talking. Then we ordered some desert. We wanted cheesecake but the waiter told us they only had turtle cheesecake. I told S that has nuts in it and we don't care for nuts that much. So we got bread pudding (which I don't much care for lol) anyway, we were eating when THE FIRE ALARM went off!!!!

Good God it was so loud and I have sensitive ears. So I plugged my ears and S was cracking up watching everyone all around us. Lights were flashing, I felt like I was in a night club....There was no fire, which we all figured. Along with everyone else in the joint as nobody even got up to leave when the alarm was going. It was almost comical. Only in America would a fire alarm go off and everyone just ignores it.....

including myself. ha!


We go to leave, the fire truck was parked in front of the car so we couldn't leave! It was pretty funny! We got a good kick out of it. I had a surprise event I wanted to take him to but the place was closed at that time.
After we could finally leave, we went to S's place. We exchanged cards and there were no gifts this year as we both agreed on that. Which is fine, just being with him is all that I really wanted anyway!!! It was a lovely time. Then we cuddled on the couch and went to Italy...Amalfi Coast, Portofino and Rome with Samantha Brown from the Travel Channel....hey, it's better than nothing! lol
Yesterday I took him to the surprise event which was a display thing of President Lincoln and Civil War artifacts. He LOVES this stuff and it was close to home and FREE!!!! He had no idea about it!!!! So we were there for almost 2 hours. He was so excited it was adorable! I just wanted to give him kisses all over!

He got to 'touch' actual Civil War clothing. Well, there were no signs that said 'don't touch' so we touched the stuff. lol So that was my Valentines weekend! No proposal, which I wasn't expecting..
ETA- I almost forgot the cutest thing...he put 10 little heart confetti's in my card to which he said was for "all 10 Valentines we've spent together" it was sooooooooo cute!!!!! And then he did say something about us getting older (I couldn't help but think about him saying that meaning...it's almost engagement time! Maybe?)