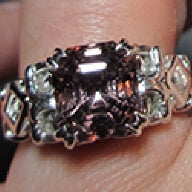 Joined

May 1, 2011
Messages

248
This might be long, so apologies for the wall of text post.
I thought I had my e-ring decided on, and just needed a stone. Fell in love with spinel and 38 days after starting my search for the perfect one, I finally found it. I think. It's on it's way here now. In the mean time, I've found 2 more "perfect" settings and have changed my mind on them. I do have a local jeweler, but I don't know him like I did the jeweler that created 4 other diamond settings for me. He's not with us anymore. =(
This next part is going to sound like a personal ad, but it's not. Just a little insight in hopes that someone might be able to point me in the direction of someone to work with for a custom ring, or maybe you might know of THE perfect one that's ready to go. Who knows, but it can't hurt to toss it out there. I do plan to see my local jeweler but am afraid he might not "get me" so I'm working on a back up plan.
I'm hard on jewelry, I'm not very traditional, my hair
right now
is black and platinum blonde chunked with some purple. (see avatar- lol) I'm into art and bands but I'm
not
all "black eyeliner gothy" by any means. I like things that are edgy and my favorite jewelry period is the Edwardian era.
That said- I'm going to have around a 3 carat very slightly elongated (north to south) pinkish-purplish asscher to set once Jerry from Gemart gets the stone cut for me. So all I've been doing is scouring the interwebz for anything and everything that I like. I put a collage together for some inspiration and to take to the local jeweler if I don't find something/someone that is a good fit.
My budget is 2K to 2,500 whether that lands me in platinum, palladium or 18K
white
gold isn't super important to me. I don't care about a ton of bling on the ring, but if it's the right ring then it just is. I do like filigree and open spaces. I've been married before and have had 3 different solitaires and think that's because I just don't love them, or I haven't found the right one. This time, I have the PERFECT, gorgeous, adoring, Prince charming and I want the perfect ring.
Anyway, I'm going to try to attach this collage picture and if that doesn't work, I'll link to it. Any and all thoughts are welcome and most appreciated! I've had TONS of inspiration here, and can't thank you guys enough already
**edit (second time's a charm) - here is the link to a larger image of the collage
http://dl.dropbox.com/u/1140263/Kari/rings%20fav%20parts%20pieces.jpg