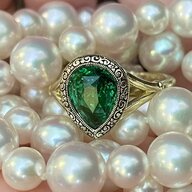 Joined

Mar 2, 2009
Messages

12,627
Sorry, I'm just excited because I bought my first opal/Dan Stair stone. It's not faceted so I don't think it really counts as a "Dan" stone since the faceting is what he's known for. But still, I'm excited!
I love white translucent stones (hence my love of white jade and moonstones) so when I happened upon this opal I thought it looked lovely!
I don't usually like the flashiness of opals, but this one sounds like it has a subtle blue shimmer that sounds right up my alley.
So excited!
Hehe, I promise myself that this is the last gem/jewelery purchase until June. I've been bad the last two months