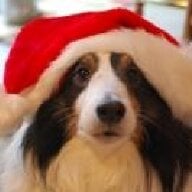 Joined

Nov 25, 2002
Messages

9,170
uh........um...............but NO!
While on the hunting expedition for Tina''s stone, I (OF COURSE) ....HAD to just look around to see what else
was in. (Big mistake ladies........costly too!

)
Well, what do I see? This .741 J, SI2
ACA
stone that''s just unbelieeeeeeeeeeeevably priced, and nearly
screaming out to me! So, of course, only the sickest of minds can do (hello, LYNN? MARA??? heheheh), my
wheels start humming like a hamster wheel.

Many of you may remember that I brought home a .56 J, SI2 pendant from
WF
resulting from my whirlwind ride
on the "Mara upgrade" tour. At the time, I figured that getting a solitaire would give me the option to wear something
a bit more plain and change it up every now and then. I wore it for the whole two months I had my halo out on loaner
(for reproduction purposes). When I got my halo back, though, the solitaire went into the box, and I find I never wear
it. I''m too attached to the halo and all that it means for me (it was MY 40th birthday piece).
Not only is it damn near CRIMINAL to have something that beautiful sitting in a box.....but for me, I hate to spend that
kind of money on something that doesn''t get enough use to warrant it. So, what to do? (Now I know those of you who DO
share the psychosis are already way ahead of me in surmising the conclusion here......lol)....
So I began thinking how to parlay that .56 into something I''d get more wear from. I''ve had leverback dangle earrings on my
wishlist for at least 2 years now. However, since my studs are .55 each, I really wanted something a bit "more", especially since
these will hang below the ear. VOILA....problem solved! I traded the .56 J for the .741 J, with the plan to set it now into the
pendant setting (so I could choose to wear it if I wanted to) and find a mate for it in the spring to make my long-coveted leverback
earrings.
This shot looks SO clean......
compared to what I expected from looking at the grading report.....