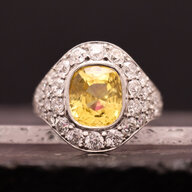 Joined

Jul 23, 2012
Messages

19,824
I've noticed recently an increase in people critiquing jewelry on SMTB.

Things like "I'm not sure that'll be comfortable"
Or "I don't know if that twist really goes with that shape"
Or "not everyone likes that"


And (I think) its an unwritten rule that you gush on SMTB and critique on RT or CS. Ignoring the obvious exceptions of people posting in the wrong thread or asking for advise, do you think it's appropriate to be critical in the SMTB forum, or should it just be for supportive comments?