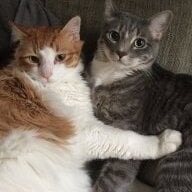 Joined

Mar 5, 2013
Messages

2,835
Couple more quick spinel pics and that's all I have time for today....
Suite of 7 Burmese spinels, the color is insane; this is just an ok pic IMO. I want to make an eternity style ring with them at some point, the average size is about 2.5x3.5 mm with the middle few ranging up a bit.
The pear pair doesn't look great in these pics, but they have lovely dispersion and sparkle, and less gray than these pics show - they are Vietnamese. All sourced by Yvonne.