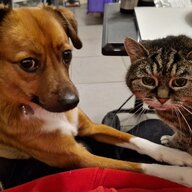 Joined

Jul 7, 2013
Messages

5,937
In UK, more lockdown restrictions are lifted as of today Monday 01 June 2020, and life for me personally is slowing getting back to normal.
The cleaners can resume their services while I am out of the house, first clean since lockdown in March 2020.
The air-con company can come and fix my downstairs unit (it spits and drips water, I suspect the drain pipe is blocked like the one upstairs in the bedroom a year or so ago) as well as to service the system. This was planned before lockdown when the weather was still cool and bearable, and I managed with just the upstairs unit so far.
The dog walking by a dog walker has stopped as I can manage on my own with the help of my neighbour who likes to walk him from time to time. I should have stopped using the services of a dog walker when I started to work from home in September 2019, however, I kept her on out of loyalty as she has walked my dog since 2009.
My hairdresser is planning to open in July 2020 which is great news as my last monthly haircut was in March 2020!
Still can't get the integrated washer dryer replaced as it is classified as non-emergency. Therefore, I shall continue to visit the launderette in town that I have been using since about July/August last year for longer.
No sign of the pub I frequent opening any time soon as it is tiny and does not have a beer garden.
No sign of choir practices resuming any time soon as singing is considered as a significant risk of Covid-19 transmission.
I doubt if the theatre trip to London in August 2020 will go ahead which is a shame. However, I am not keen to travel on public transport just yet anyway.
This Thursday, I shall visit a friend from choir for a social-distancing meet in her massive garden, to drop something I cooked for her before lockdown, and we shall participate in a virtual choir practice using our respective computer/laptop.
Still not too keen to go out and about in crowded places, and I avoid going to the shops during busy times. It is good that I now have a garden of my own where I can use when the weather is nicer.
Life can be better, of course; however, it is what it is, and I am thankful that I am alive and well compared with the many thousands who had perished.
DK