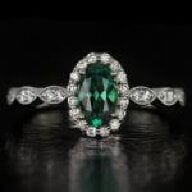 Joined

Apr 13, 2015
Messages

269
I'm not sure where the best place to post this is...please let me know if it should be moved.

I'm considering purchasing a pair of diamond studs, and I'm wondering what the best size might be. I'm going to go with something preset because to be completely honestly, I'm not invested enough in my earrings to search out diamonds and get something made. (My hair is down most of the time and you don't really see my earrings. I just want something nicer than I have now.) I have three holes in each ear, and I'm looking for something for my third hole. Generally, I wear my smallest earrings in my third hole, with something slightly larger in the second and something even larger or dangly in the first hole. I also almost never switch out the earrings in my second and third holes. Currently I wear a pair of cheap Target CZ's in my third hole and a pair of pearl studs in my second.

Given that my third holes house my smallest earrings, and that I basically never take them out or switch them out, what would you consider an ideal size for these studs? I'm currently looking at a few pre-set options from various places... .10ct, .15ct, .18ct., .20ct, and .25ct options. However, I really have no gauge of how these ct weights translate to actual size on the ears. I'm guessing that the .10ct and .15ct options would be super tiny, but thoughts on the others? I want them to be small, but I still want them to be seen.

Eventually, I'd like to also get some diamond studs for my second holes to create a kind of graduated diamond stud look.