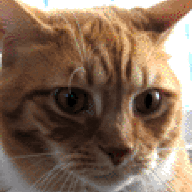 Joined

Dec 31, 2006
Messages

35
I''m really having a hard time.
Size does matter.

I''m trying to stick with a nice center stone that has the best cut, etc, but now I''m drawn to a .97 princess LM color, SI3 for $1,600, it does have a yellow cast and looking at it with the pave'' setting in palladium I''m afraid it''ll look really yellow.
I have seen other stones that look nice - they''re just ...
smaller
. (they have no report and it is not certified)
Help me overcome this senseless draw I have towards a larger stone - just cuz it
is
.
The other thing is that I''m finding the loose stones at finer jewellers about $1,000 more than a lesser stylish jeweller.
I''m sure it''s the ambience I''d be paying for.
I''m having an even more difficult time with the setting...