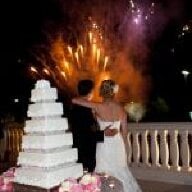 Joined

Jan 8, 2009
Messages

690
Hello ladies-So I haven't posted in awhile, and with V-day coming up I thought I'd share a funny LIW story.
Last v-day, I kept asking my bf what we were doing and he kept saying "I don't know, I don't know".....which led me to believe we had nothing planned. But he was just throwing me off. Well when he sent me this insane display of roses to my office and I called to thank him, he said "I think I'll just meet you in the city" (I work in nyc, so he said it was easier for him to meet me here right when I get out of work, rather than wait for me to get all the way home). Anyway, he calls me to tell me he parked near the Audi dealership on Park ave, and to go out there and wait for me. So im waiting, looking around, and I see him walking towards me. He had a duffle bag on his shoulder. So im like "what the hell are you doing, working out tonight?". And he said "no, I have a surprise. you want to know what we are doing tonight?" He opens the bag and shows me that he went out and bought me skates (with pink laces,

), himself skates, and packed me socks, scarves, etc. He said "we are going skating at Rockefeller center". So instantly, im like "holy crap, he is proposing tonight!". So we have dinner at this amazing restaurant (Bobby Van's for anyone who lives in the city, awesome steak). And the whole time im like shaking because I cant believe it. It was so romantic, because he planned it you know? We didn't just rent skates, it was like all thought out and very cute. I could just picture him in the store picking out girl skates and buying them for me! lol
So we get to the rink and skate around, and its SO romantic. So he says lets take a break, and we skate off to the side where there is a fountain and the angels, etc. So we are both looking up at it, and out of the corner of my eye I don't see him anymore! Im like "OMG OMG HE IS DOWN ON HIS KNEE...THIS IS IT!" so I turn around and he is tying his shoelace!! LOL Needless to say I wanted to take my skate off and stab him with it HAHAHA.
It really was an amazing night though. And my mom gave me the best advice. She said "Whatever you do....don't tell him you thought he was going to propose. Just enjoy it for what it was....a very sweet thing, and a romantic night. Because every time he "does something" you think he is going to propose and you tell him. Now the poor kid is always going to feel like he cant be romantic cause you'll just be disappointed. How is he ever going to surprise you if you keep expecting it?"
Good advise, and I have followed that since. But I cant help but think about my SIKKKEEEE!