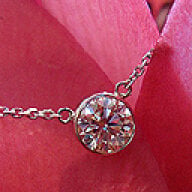 Joined

Oct 30, 2002
Messages

31,003
I know I posted something about this a little while ago, but I just purchased a 1ctw Signity Star solid white gold solitaire pendant from an eBay vendor who has some SS items on his e-Store. I paid $15. I also got a pair of 1ctw SS stud earrings for Xmas for my young sister who doesn't really have and won't invest in any good jewelry. The earrings are 14k solid white gold with screw-backs so they look like the 'real thing'. The earrings were $22.
From the feedback on this seller's eStore, it appears that people are extremely happy with the quality of these items. FYI, Signity Stars are CZ's that LOOK similar to the 8Star or H&A diamonds but for obviously much cheaper. They are supposed to be the closest looking CZ to the 'real thing'. Cut Nut and others were saying that they choose the cream-of-the-crop for SS's and use those to show people what a perfect H&A should look like under an Ideal-Scope.
So for $46 (incl ship), I can finally check out the Signity Stars for myself. I, of course, would rather have a real 1ctw diamond pendant, but since I am breaking the bank with my e-ring...my boyfriend has put a serious limit on the spending!
If what I have heard is true, I might like the pendant better than the real thing! We shall see. It's definitely much cheaper. Also, I have seen the SS stones in dept stores and on TV for about $300 a carat, so this was a GREAT deal! Will keep you all posted.