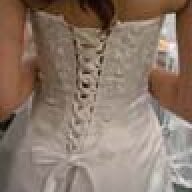 Joined

Dec 12, 2006
Messages

847
My dad just rang me. It''s 5.30 and I''m still at work, which should have hinted to him that it''s a busy day... but he proceeded to keep me on the phone to tell me five times that he wanted me to book two people-movers for the relatives who are coming to my wedding.

I told him I was happy to book them, but how would he pay for them? FI and I are paying for the entire cost of our wedding ourselves, and we are struggling a bit financially. My dad was extremely put out that FI and I could not afford to pay, and then suggested that FI''s dad pay!!!

My parents are rather well-off, while FI''s dad works as a bus driver and struggles a bit financially as he has two young children to take care of. I could not believe the audacity... my dad thinks everyone has that kind of money lying around.. we are talking close to $1000 to rent two people-movers for the whole period my relatives will be here.

I am very grateful that they are coming all the way here to share our special day with us, but we are really stretched financially, and my dad hasn''t offered to help out in any way at all, and not only that, but expects us to fork up cash for these extras. They also want us to host banquet lunches for our relatives BEFORE and AFTER the wedding... I am happy to do it once, but cannot see how we can afford to do it twice.

I am so furious and stressed. I hate arguing with my dad... things get very ugly and he says things that I wish had never been said. Sigh...