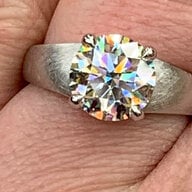 Joined

Feb 13, 2003
Messages

2,917
Sorry if this is not the right place to ask my questions, just move the thread if I''m at the wrong place.
As some of you know, I live in Belgium.
I have 2 diamonds: 2.08 K-VVS2 EightStar and 1.26 N-VVS1 Cut by Infinity.
I want to sell them because I have a bigger project.
I know a place in Antwerp where the seller does it for you, but he will pay you approximately 50 percent of the Rapaport report.
For such great diamonds, I think it is not fair.
(Especially for the EightStar, it was a J before the recut.

)
Another problem is to sell it on internet: I don''t dare to ship the stones before receiving money, and of course people don''t dare to send money before viewing a diamond.
Can a diamond appraiser be the third person?
How much customs an American buyer will have to pay on a ring shipped from Europe?
Thanks for all the helpful answers!!!