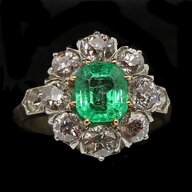 Joined

Jun 1, 2020
Messages

304
The following pieces all belonged to my mother. These three rings have a lot of emotion attached to them, and I confess I never wear them for that reason.

The leftmost is circa 1980, made of 14kt yellow gold, with either white gold or platinum prongs. I don't know how much the diamonds amount to carat-wise, but they seem to be of decent colour and clarity and are very sparkly. (They look terribly grey in the photo, but they aren't like that in person.) The middle ring is from Iran, circa 1970, with a Persian turquoise that has gradually started to turn green over the years. The metal is a mystery. It can't be gold, as it attracts to magnets, but that's about all I know. My father bought it in Iran and brought it back. The rightmost ring is from the 1950s and is made of 14kt yellow gold, with either platinum or white gold detailing around the side stones. It has a 3mm yellow diamond in the center, and 1mm (maybe smaller) white diamonds on either side. Stonewise it isn't spectacular but the detailing on it is intricate and beautiful.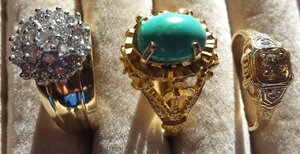 I have a few more but these five are the nicest.
Last edited: