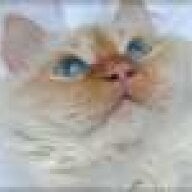 Joined

Mar 30, 2009
Messages

326
I can't decide.

I have a Tiffany solitaire ER right now and when we were looking at wedding bands, I originally fell for the 3 mm shared prong band from Tiffany & Co. I love the way you can easily distinguish each individual diamond, there was very little metal showing and it was the lowest set shared prong I've ever tried on. I also love the basket set.

Anyways, while shopping around recently, I also fell in love with the look of rose gold band with my platinum color. I haven't been able to locate a rose gold band with pink diamonds though (especially in the same setting as above), they usually just have the white diamonds. If I went this route, I would have some like Leon make one with 8-10 pointer pink diamonds (saw a parcel with Leibish & Co) in the setting setting as the low set basket shared prong from Tiffany's. But I can't decide if I want traditional matchy-matchy super blingy white set or a non-traditional blatantly non-matchy but still blingy pink and white set. I would love to see what other people have done and what it looks like when it's all said and done. Does the pink diamond ever get confused with pink sapphires ever? Do you always have to tell people that it's pink diamonds?

Would love to see what other people have come up with.
Thanks in advance!