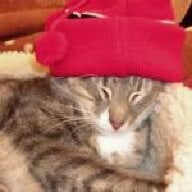 Joined

Aug 14, 2009
Messages

23,555
@yssie

your collection is slaying me. Can you take a collection pic so that I can drool over them? Wish I can play with your jewelry box!
You're so generous icy!!
So I was playing earlier and I took a few group pics… But I seriously feel like a fraud posting a "collection" photo

I've only got a handful of very (very!) random pieces - not a collection in any way that counts!!
I do love them all though
Maybe I can share a "current group" shot and then I'll say what I want to do next to turn the lot into something that makes sense
So… Here's the current group. All the dangly bits are bracelets. And missing is the vintage onyx bracelet in YG that my mother has… Well she calls it "borrowed" LOL.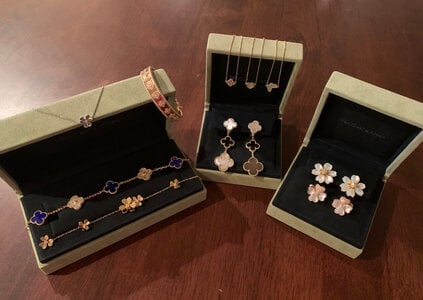 And what I'd like to do…
Earrings.
1. Pave cosmos (same size, WG) have been ordered
and they'll arrive when they arrive. Super excited about these - my very first pave earrings!!
2. I'm thinking about the plain frivole earclips - the large size. I *think* I'd like something YG? But on the other hand… I have a pair of GSS studs that I adore and that I happily put on when I've got yellow on the wrists and want yellow up top to match… So would I get enough use out of the frivole to justify it?
I'm not one for matching - I'd never wear both frivole earrings and frivole bracelet. I would wear those earrings with the lapis though…
3. Alternatively, vintage YG pave. MUCH more wearable than the pave cosmos. (Pave small frivole doesn't work on me). Scratches the YG itch but is sufficiently non-casual to not directly compete with pearl studs.
Bracelets.
1. I was totally against stacking bangles. And then one day I put on both my perlee and my Tiffany etoile. And the switched flipped and I turned totally pro stacking bangles. I definitely want the single row pave perlee, in RG. This bangle has actually been on a friend's list for a while, so I'd be copying off her - so I'm going to wait until she gets hers first and make a proper monkey-see-monkey-do of it
2. I love the look of the perles d'or as a stack separator. But I think that one has to be SOd in my size and, yeah, no. So… some finger crossing going on there.
3.
@Missie1
's GMOP/pave vintage alhambra. It was on my Maybe list and then she shared her photos and now I know that I need it.
Necklaces.
1. I don't wear necklaces. Like, I
don't
wear necklaces. But I'm jonesing for a rock crystal set - twenty plus bracelet. Why? A mystery. But normally my necklace phases die off after a week or two and I've been on this idea for a couple months solid. Might be a non-starter as I'm betting I don't have the purchase history to be offered this anyway. Maybe just a prolonged case of wanting what I most likely can't have

Rings.
1. Frivole BTF is on the Someday list - behind the bracelets and necklace and maybe more earrings.
2. And the lapis hellebore is on that same Someday list - jockeying for the same position.
I have a feeling I won't ever actually get to either because I've got that pesky non-VCA wishlist as well…

Last edited: