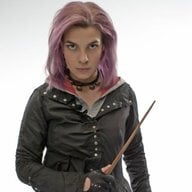 Joined

Dec 27, 2017
Messages

1,044
I see a furry butt in those photos! Hee hee!
Yes, there are actually *two* furry butts running around here causing trouble. I keep threatening to get more when the kids go off to college but my husband wants to keep it to two.
This stack is so YOU! Seriously, your personal style really shines through with this. Both classy and edgy at the same time. Thoroughly modern, slightly unexpected. I love it!
Thanks so very much—you are so sweet. It's funny to think of having a personal style because most of the time I feel like I fell off the fashion train about 20 years ago. At this point I just sort of wear what I like and what's comfortable (and that extends to sparklies as well). It's nice to hear that that strategy can be translated as style!