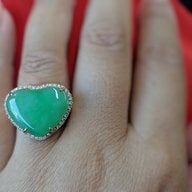 Joined

May 17, 2014
Messages

4,536
@mellowyellowgirl

If you can, try to go for better "type" not just color. You will appreciate that more with time I think. If you have not gotten a jadeite that "glows", maybe get one to try. It's a different quality altogether. Personally I really love jadeite that have the glow.
Do you mean the jelly texture?
Jelly so expensive and always grey **wails**
I think my issue is I needs colour but colour that glows is out of the budget. I would love one in my cab but would need to sell organs for that.
Do post examples though if you find any!!!! I'm ready for that next step of looking *rubs hands with glee*
Education never hurts right?!