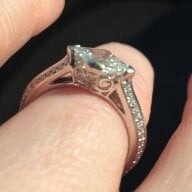 Joined

Sep 22, 2015
Messages

1,170
hi everyone! First post here though i've lurked on and off as a guest for years. But i am still a total newbie!
My huggy upgraded my e-ring for our 15th anniversary. He knows my love for east west marquise settings and had the Kwiat east west ring that i love so much, re-created with a local jeweler. i LOVE the ring (i can't stop looking at it, the diamond is insanely sparkly) and now that i have it, i am pondering the wedding band. it is hard to find pics of e/w sets! i know several on here have these stunning settings and i would love to see pics! I am also open to suggestions.
i have some ideas, i don't think i will go with a matchy matchy band but i'm reserving judgement until i go try some on with the ring. I'm considering using some of the rounds on my old set for the band; not positive as my new ring has some amazing sparkle and i know the diamonds on my older set are not of nearly as good quality.
I'm terrible at taking photos of this beauty and this is with my phone so they just really don't capture how lovely this ring is! (yes, i am really that pale)
.90 ct, SI1, H color (i could look at it all day)