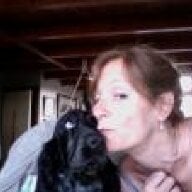 Joined

Dec 12, 2010
Messages

268
Hi everyone. This is a combination of the real life perspective and the glorious AVC threads.
We are beginning to think about possibly buying an AVC

- my all time favourite cut. I've been brooding over the listings and fiddling around with rulers and graph paper (
) because I'm trying to get a handle on what a 6x6 stone (.80/.90) would actually look like on my 5.25/5.5 finger.
We can't afford to go bigger - and I'm curious to see how this works in reality. I have to say that the graph paper and tape look just faaaahb!!! Light return's a tad different 'tho.
Being on the other side of the Atlantic makes things a little trickier and I'd really like to get a better idea before we take this further
I'm in an emotie mood.
Very big thanks

to anyone who can be bothered to upload and I'd particularly like to see both close ups and at a more natural distance if poss.
Abi