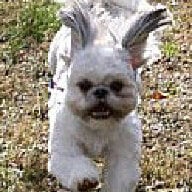 Joined

Jun 30, 2010
Messages

717
My fiance and I upgraded our diamond a little over a month ago, and we are very pleased with the diamond and with the customer service that we received with our jeweler (always wonderful!), but we are a bit unhappy with the setting.
My last diamond was a princess cut diamond set in a simple, platinum, solitaire setting. We chose the same setting for this diamond - the only change we made was that we decided to have standard prongs, as opposed to the v-prongs that we had before.
When I first got the ring, the store had forgotten to re-size it (from a 6 to a 4.5). They apologized profusely, and fixed it. The ring then fit well, but I noticed that something was a bit 'off' with it within a few hours. At first, I thought that maybe the stone was crooked in the prongs, but when I looked at it more closely, that didn't seem to be true. After looking at it from all angles, I realized that the head of the ring was slightly tilted one way. It looked especially bad when I balanced the ring on my desk with the diamond facing downward - it seemed crooked in the band.
I pointed it out to my mom, who agreed that it was wonky, and she also told me that the head was slightly twisted. Upon closer inspection, I realized that she was right. I asked my fiance to look at it and explained what I saw, and he could see it too. It was honestly pretty obvious.
We brought it back to our jeweler, and he said that he couldn't see it, but he brought it to a bench person, who apparently could see it. We left it for them to work on for four hours or so, and then we picked it up. It looked a lot better, but not perfect. I don't think that it's really obvious now or anything, but since I'm looking for it now, I can still see it a bit.
They said that since the rings are set by hand, they aren't always going to be perfect. They offered to try again, but said that they couldn't guarantee a different outcome. They said that they really couldn't see the imperfection anymore. Since we couldn't really see the issues nearly as much, we decided to just take it home.
A month later, it is still bothering me just a little bit - because I can still see the problems if I'm really looking for them. The store that we bought it from is not really a chain, but there is another one in a different part of our state (there are a handful in the country). We decided to bring it there, because we wanted their opinion, and also because we wanted to look at other settings, because I am considering a whole new type of design.
We spoke with the manager at the second store, and he didn't really see what we saw in the beginning. He talked to us and explained how a diamond is set, and how the bench people go about the process. It made sense, and he actually pointed out that he thought that one of the prongs was thicker than the others, which is something that we never even noticed before. He also agreed that he could see the other issues a bit, after we pointed them out, and after he looked for awhile.
He went back and talked to his bench person about how to fix our ring, and he said that he thought it would be best to start with a whole new setting (it's a stock setting, so they just have to order the pieces). They aren't sure what happened with it, but think that it may have been cast crookedly or something. Rather than just trying to work on this one again, they agreed that it would be easier to start fresh.
They offered to give us a whole new setting for free, and he took the measurements of our diamond and my ring size. He said that he will have it all ready to go in about a week, and then he will call - we can bring our old ring in, and they will be able to do it in one day, because they will have already sized the ring and put the pieces together.
So far, I like this guy. I asked him about the possibility of chipping, and he didn't deny that it does happen. He told us that their store had set about 7500 diamonds in the past year or so, and only about 2 had chipped. I like that he was honest with us, because at the other store (owned by the same people), we were just told that it 'never' happens. On the other hand, the other store assured us that if it did happen, they would replace the diamond at their cost. This manager said that we would talk about it, because my fiance and I have insurance, but so do they. When we asked again about it though, he said that since it was bought at one of their stores, he would take care of it if something went wrong.
I was all set to do this - but I am a worrier, and I would hate to see anything bad happen to my diamond, since I love it so much. Then, we asked the jeweler to clean it. When he brought it back, he told us that it is such a beautiful stone, and that he is really impressed with the cut. He said that it's rare, and that he wishes he saw more diamonds like this, and that it could take him months to find one like it if we wanted to upgrade even just a little bit in size. I said again that I was so afraid of it being chipped during the setting process, and he said that of course they would never, ever purposely do anything to hurt the diamond. I totally know that, but I just worry about the accidents, even though I know that they are pretty rare.
I do love my diamond so much, and I don't know what I would do if it were chipped. Having the insurance helps a little bit, but even with it, I would still be devastated - especially since I do think it would be hard to find a good replacement. I am again tempted to just leave it like it is, because I hate to even risk the damage a little bit. On the other hand, the manager really recommends that we try a new setting, because he thinks that if I am concerned enough to be pointing out the issues to him, they will always bother me - and he's probably right.
The other thing is that I am still considering the possibility of getting a designer setting, possibly in the near future. I am just not sure what I want long-term, and I love the look of my current ring, but I think I might want something a bit different for my forever setting. I hate to keep risking harming my diamond by playing with the settings, especially if we decide to just change settings soon anyway. The only reason that I'm somewhat against the designer setting route is because they like to send the loose diamond away to the designer for the settings, and I am a bit uncomfortable with that.
I also am a bit worried because I mentioned that both the diamonds (my old one and my current one) had been loose in their settings, and that I had finally gotten my current one tight now. I would hate to have another ring, and they have to deal with the stone being loose. He said that he agrees that it's not acceptable, but that it tends to happen with princess cuts, because setters are worried about chipping the corners. He explained that they might be more comfortable squeezing just a bit more tightly with a round, but that they might back off sooner in a princess cut. He said that his own daughter has a princess cut, and that hers was loose several times, but that they kept tightening it and once they got the platinum to kind of retain the memory, they had no more problems with it. It's just that since the store is so far, I would hate to deal with the stress of not being able to wear my ring for awhile until I could get there.
Also, he mentioned that it might be easier to get the v-prongs to grip the diamond more tightly, since the setters squeeze them from the outside - as opposed to the more standard prongs with the rounded tops, since they have to push down to tighten them. I thought about it, but I still really like the look of the standard prongs, so I want to keep that look. He also said that since I want standard prongs, they actually only make a setting that was originally made for a round diamond - so when they order it, they take the measurements differently in order to prepare for a princess cut. We asked if there was another ring head that was made only for princess cuts, but he said that only the ones with the v-prongs are originally made only for princesses, but that they can easily set a princess cut in the standard four-prong setting originally made for rounds. Does this sound right?
I like that this manager was so willing to talk with us for a long time and answer our questions, and he assured us that he would work very hard to get this right. He told us that if they didn't get it right the first time, he wants us to let him know, because he absolutely wants to get it perfect for us. I am just so afraid of something going wrong, and I just have a feeling that it will, but maybe I'm just being really paranoid.
What would you do?
I have added some photos, to see if anyone sees the problem. One of the prongs looks odd in the first picture, like it hangs up higher over the diamond, but it doesn't look like that in real life.