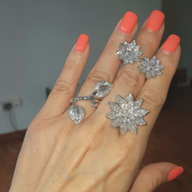 Joined

Oct 5, 2006
Messages

9,927
These are currently set into 3-stone ring (pics below) and I've tried to love the ring but I don't!
I mean I like it but am not enamoured with it, not in the same way as I love, say my 4.646ctw solitaire studs. The existing sidestones are too big and make the centre stone (which should be the star) look as if it's the same as the sides; it doesn't help that the centre is set too low too. So, the ring is just this sparkly blurry ball of bling, without any clear demarcation (I hope I'm describing it correctly) or sophistication, which is what I wanted to achieve in the first place.
So I've made up my mind to reset this ring, as much as it pains me to have to swallow the cost of the setting (am not resending it back to LM - am disappointed that he didn't follow my instructions, particularly with regard to the sizing of the ring -it's too small - and there are some other issues too). So it's just not the size of the sidestones but there are issues with the setting itself too. I'll be back here to ask for help again wrt the new 3-stone ring.
Anyhow, back to what to do with the sidestones. I've had an offer from a vendor to buy them at a decent price (more than 70% of the original total cost of the purchases, but not quite the total cost). Furthermore, given that prices have gone up so much since I bought them, I figure the best thing for me to do is to try and sell them, at hopefully closer to current market prices. But the big Q is: where? I've tried to place things on consignment with GOG and only one item was sold, the rest just sit langushing around. JbEG is another option; Grace has been really sweet but I don't think they're taking in any more modern pieces. I could try and sell them myself on the "thou-shall-not-mention-site", but am too scared I might get burned again after the last Tiffany Metro fiasco!
So am thinking perhaps I should just have them reset, into halo earrings with (detachable) pear drops, similar to these from LM (except his top earrings are just plain studs and not halo'ed). I'd choose the thinnest, most delicate halo's for them (around 1 pointer or even less), the idea being the halo's would accentuate the centre stones and not compete with them. I did previously have a pair modelled after these and absolutely LOVED them (wore them everyday) but traded them in for some other pieces. Now, my only problem is that I'd feel so extravagant doing this, as I currently have 3 pairs of diamond earrings already: ie. my 4.646ctw BGD solitaire studs, cluster flower earrings (which are being reset from existing stones, each earring with a 0.65ct centre and 0.12'cts in the halo) and "travelling" half-hoops with 0.18'cts. I mean, do I really *need" another pair of earrings? I'd feel guilty abt getting yet another pair and sinking more money into this new project, which would cost me even more in the future as the idea is to get pear drops for them eventually (perhaps for my big b'day in abt 5 yrs time?

).
What would you do? If you do choose the option of selling, I'd be grateful for some tips as to how to go about doing this, including perhaps how to set appropriate selling prices for these 2 stones, and whether they should be sold together or separately (am thinking separately).
Another option obviously is not to do anything at all. I know I don't love my 3-stone ring, but am willing to hear opinions from you guys.
Thank you.