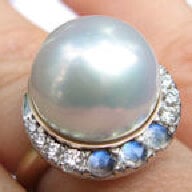 Joined

Jan 9, 2007
Messages

7,312
I have a question about my stone. I got it about 7 years ago and was told then that it was "well cut". I was never sure just what that meant, although it is a very sparkly stone and I have always gotten compliments on it. I thought I had lost my ring, but I found it recently (and reimbursed the insurance company). Now, I''m wondering about ideal cut, and were I to change out my diamond, would an upgrade in cut be noticeable?

Round
1.50 carat
F VS2
Lab GIA (May 14, 1999) + Sarin report
Polish: Good
Symmetry: Very Good
Med Blue Fluorescence
7.31 x 7.41 x 4.44

Table: 60%
Depth: 59.8%
Crown Angle: 32.7, 12.9%
Pav Angle: 40.0, 41.6%
Culet: None, Small 1.1%
Girdle: 2.1 Sl Thick - 3.5 Thick

I ran the HCA and it comes out to be 2.6 or 2.8 (depending on if you use angles or %s) Very Good, with Light Return Good & Fire, Scintillation & Spread Excellent. (So, my jeweler was right..it is well cut.) So I could improve light return. What does that mean as far as looking at my stone? About the only thing I have noticed with it so far is that I HAVE to keep it clean (like I must clean it daily, and I am not normally such a neatnik) or the lights within go right out.