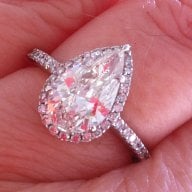 Joined

May 23, 2010
Messages

6,731
I have this San Marco chain, 14 KT, that I've had since the 1980's. I never wear it anymore, so I'm thinking of melting it for ca$h.
It's 47 grams, according to our kitchen scale, and seems like it would melt for a decent amount of money, but I have no idea what that would be. On the internet, no one seems to want to say what they are paying per gram, and I'm hesitant to go into those weird cash for gold places. I am also hesitant to drop it in the mail to one of those mail in your gold places. Anyone have even a rough idea?
If I do want to melt it, should I send it to one of our trusted PS guys? Or maybe a NYC smelter like Ross Metals? Would that work?
On the other hand, I do sell on ebay, and maybe I would get more there. Would you buy a high ticket item like this from an ebay seller with 200+ ratings, 100% positive? What if they don't usually sell jewelry?
Should I try selling it to a local jeweler?
On the third hand

, maybe I should keep it and wear it. Is it in style? It's not really bulky, like some '80's jewelry, but on the occasion that is appropriate for this type of thing, I would probably wear a string of blingy pearls instead.
What do you think?
ETA: It's shiny and brushed yellow gold, if you can't quite tell from the photo.