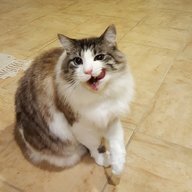 Joined

Oct 1, 2014
Messages

4
Hi all!

Long-time lurker here who is finally coming out to say 1) how much I appreciate the wealth of knowledge shared by you kind folks (I can easily get lost reading pages and pages of insightful info!) and 2) I finally have my own question to post

I recently purchased a .60 marquise, I color and VVS2 from a vendor who does not offer video. So I thought it would be best to have the stone in hand to check it out and take a couple of photos so I can get your thoughts. Price was just under $1,100 and I have 30 days to return. I do like the diameter (?) and to my amateur eyes, I thought the aset looked fine. I like smallish stones but I want a bright one! Here is the link to the vendor's photo and aset of the stone,
http://www.b2cjewels.com/dd-7608694-0.60-carat-Marquise-diamond-I-color-VVS2-clarity.aspx
I took lots of pix but only a couple were worth uploading. I'm not sure if you can really assess the stone from the photos. I would like to set this stone in an EW setting if it's a keeper. Please let me know if it is or if I can do better.
Thanks!!
Stanny