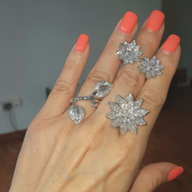 Joined

Oct 5, 2006
Messages

9,958
I was looking at a 17.5m white SS pearl yesterday and the lustre, nacre, orient ...everything about it was just *perfect*!! It was also perfectly round. The lustre in particular was really really booooootiful....slightly silvery and just so mesmerising.
The only problem is the price. It''s quite expensive. It''s the only one available in the whole complex (I went to a pearl city where there are a dozen or so pearl shops) and they were asking about USD3,500 for it though with some haggling they may go down to USD3k.
There are some others there, slightly smaller (about 16mm) and their prices were *much much* cheaper, about USD1,000 but the lustre, though still quite lovely, were not a match for this other one. The colouring was more a creamy white than silvery and not as shiny or mesmerising.
Btw, I noted also that pearl prices here are soooo much cheaper compared to those in the US or even Singapore and the quality is just as good.
I am thinking I could ask hubby to buy me this instead of my watch (I was thinking of getting a new watch but I''ve had my Rolex serviced and am not in a hurry to get another one - am just not a watch person, really).
So what do you ladies think?