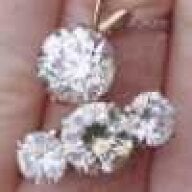 Joined

Jun 3, 2008
Messages

123
Hi Everyone,

Well I have to go see my jeweler today to talk about my wedding bands and I was hoping I could get some perspective on here. I am a little anxious and let me tell you why. Some of you many remember me as I got engaged in July 08 and posted a pic of my ring and bands here (I''ll attach a pic). I was/am super excited about the whole set. Love, love, love my engagement ring, but I have had nothing but trouble with my bands. So here is the story:

I got my ring custom made by a designer here in CA and she did a wonderful job. I have zero to compain about my engagement ring. I love it! However when the order to make my ring was put it there was also another note about my making my wedding bands, but at a later date. Well the bench jeweler who physically made my ring misread the order and made my bands at the same time as my engagement ring. The problem is that he made the bands the same size as my engagement ring and they shouldn''t have been. I had not finalized what size I wanted those bands as I thought they were going to be made a little bit later. Long story short she gave us a smoking deal on the two eternity bands which and told me if we needed to have them sized it shouldn''t be a problem. Fast forward a couple of months and I decided that it felt like my rings were getting the circuation cut off with all three bands together so I went back in. She said no problem we will make them larger. She told me we would need to add in 3 diamonds to each ring (one on top and then 1 on each side) and they could make the rings larger and I would never know. Unfortunately when I picked them up I knew... I could totally see the laser mark where the cut was made on top of the fact that they were now way too big. I ended up paying an additional $300 for the new diamonds and she said she didn''t wouldn''t charge me for the labor. I took the rings home and was strugging for two weeks with what to do.

Well I decided two weeks ago that with how much we paid for these bands we should have them made right. I went back to my jeweler and she told me she would really look at them and get back to me with the options. I talked to her last Thursday and she said that she could see where I was unhappy about them and said that she is just going to have to re-make the mold and make me entirely new bands (using the same diamonds I would imagine) I told her I was sorry, but she said she wanted to make me happy and that she would just end up taking a loss on them. I have to go in today to get sized again to make sure we get the right ring size, but I am feeling bad about the whole thing. I felt bad about the whole taking a loss thing. I don''t know if this is true or not.

So should I feel bad that she had to re-make the rings? Or is this just part of the process sometimes when you go custom?

Thanks for your thoghts!