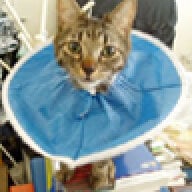 Joined

Feb 15, 2007
Messages

13,166
If I were you I would take some time to myself to really consider what is going on in my life right now. You are engaged to a man who seems pretty darn wonderful. You are studying in a great school. You have a beautiful marriage and a successful career in your near future.

This business of worrying about the ring seems like utter nonsense if you allow yourself to *really* experience what''s going on in your life right now.

Enjoy this time. Do a bit of damage control with your fiance, and then really let yourself bask in the moment. You are letting what could be an utterly delightful and dreamy time in your life pass you by; you are trading in the moment for anxiety and hurt over 30 measly points in a diamond.

If you find after some time that you still don''t love the ring, and if it''s for reasons beyond trying to keep up with others, *then* consider a change. But give yourself some time to just *be* engaged. What a shame to spend your engagement agonizing over the ring rather than daydreaming about the man.