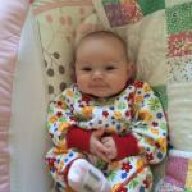 Joined

Jun 23, 2011
Messages

1,442
Hello Ladies,
I'm sorry for my hasty and unexplained departure a while back. Things got a little too crazy in my life (terrible parent issues, issues with not having my friends and family at the wedding, etc.) and I just needed to step away from PS for a while. Unfortunately I was too addicted to checking in, so I went the drastic measures route of deleting my account.
Well....it's now ONE week before my wedding and while the issues with my parents have just totally disintegrated to the point of us not being on speaking terms since Father's Day and no hope at all of us being close again since the relationship has been getting progressively worse over the last two years, pretty much everything else that was causing me to be upset has been resolved. There are a few little pangs of sadness, but I'm at peace with the way things have unfolded and I am SO excited to hop on the plane in three days (as much as one can hop while dragging two little ones, all of their stuff and ours)!
One of my best friends in the whole wide world threw a surprise party for me as a girls' night out, which I know is something little, but for me it was huge. I'd felt so much sadness because they wouldn't be at the wedding and I felt like I was missing out on everything. I know they still can't come, but I have some really great memories and some amazing little gifts (my earrings for the wedding day are my favorite) that will be with me to remind me that they are there with me in spirit. /end mush...sorry!
Anyhow, so that's about it. We're in the final days stage and luckily, there isn't anything left to do really except get there without forgetting anything at home that we can't do without or replace (wedding rings, DSLR, etc.). I've missed being around here more than I should, but I think that's really okay now. Congrats to our newest BIW and recent "graduates"!