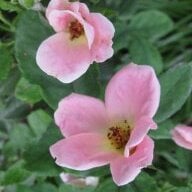 Joined

Apr 4, 2006
Messages

2,308
Forgive my amateur ignorance, but I was wondering... I read recently about Sundial''s stones falling out of an eternity band (and honestly can''t remember if it was shared prong or channel) and looked down at my shared prong eternity with a little trepidation...

anyway, I thought about the Roman arches, bridges and how the arch and brick work actually reinforced the arch to stay together. My ring is shared prong and I am thinking that this design by nature is keeping the whole thing intact better than say a channel set ring would. Can any experts here comment on this idea? Okay, there isn''t outside pressure going in, which is the whole premise of the Roman idea I guess, but still, perhaps the shared prongs are shifting altogether instead of independently and this helps?

I''m pretty harsh on my eternity; wear it every day for everything. Never lost a stone. Knock on wood.