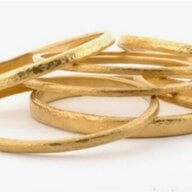 Joined

Jan 26, 2003
Messages

22,129
I bought this bracelet on Saturday while I was in Connecticut. I did not set out with the intention of buying a bracelet, especially because I just bought a pair of Gurhan 24K gold earrings from Bill Pearlman and have not even received them yet! I literally did not have the money for it and I do not put anything I cannot pay for that month onto a credit card.
However...I had to have a pair of Gurhan earrings repaired so I went into my local jeweler's, Grunberger's, in Stamford, Connecticut to see if I could get my friend Mona to fix them. What with one thing and another I somehow ended up walking out of the store with this bracelet and the owner, Jim's, blessing! I think that like some of the Pricescopers who hang around on Jewelry Pieces, Mona and Jim are enablers!
How many people walk into jewelry stores and walk out with jewelry without having to pay anything or sign anything? Of course I owe Jim some money, but he says he "trusts me" for it. So what could I do except take the bracelet? I mean, what would you do?
PS-Jim is a really good guy and had just listened to me talk about some of my family problems. He is just a good human being.
Deb