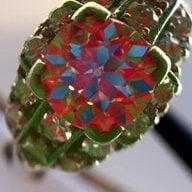 Joined

Feb 14, 2014
Messages

2,875
Looking to set my transitional diamond. It is currently housed in a ring that, I believe, is meant for an oval stone.

I have a stuller solstice for another stone and I've been really happy with it. My local jeweler sells stuller, so I was looking on the stuller website to put together a ring with components that I liked.

My question, before I go running off to the jeweler, is whether a shank designed for a peg head can be set with a non-peg setting? The couple settings I liked best were not pegs. I was hoping to see what each setting would look like in the shank before deciding, but I might have to resort to cut/paste photo editing since they might not have components in stock at the shop.

I wanted the shank to be in rose gold and the setting in platinum. That should not be a problem, right?