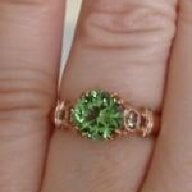 Joined

May 1, 2011
Messages

509
Hey,
My ering design is coming on apace: I've been in conversation with Caren/Daniel for the last three weeks or so (they were and are VERY patient!), we went all round the houses deciding on all sorts of thoughts (!), and have eventually come up with the basic goods to set my 8mm tourmaline into:
18k rose gold in this split-shank, trellised setting:
but with the prongs travelling up to come to pairs of very dainty pointed prongs (NE, NW, SE and SW) rather than evenly spread around the stone. Also, there will be a 2.8mm champagne diamond tucked each side of the split shank. Band size = 2.5mm. I'm hoping this setting will protect the tourmaline without stopping lots of light getting into it, plus the twisted lines are very similar to jewellery my parents bought me for my 18th, so it's sentimental too
I am very happy with how it's all going so far, but now I'm a bit concerned about what size it should best be. I am an M 1/2 in UK ring sizes, if I am wearing a ring on its own on my ring finger, but I have been given my wedding ring by my mother, and it's a thick barrel band c1 inch thick, which will push my ering further up to my knuckle. I don't want it too tight OR too loose...! - but I don't want to have to resize if possible, coz I know rose gold doesn't really enjoy that. What would your advice be? I can't post finger pics now of my wedding-ring-to-be, but I will later tonight.
Thank you