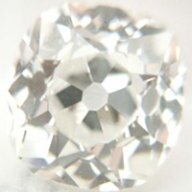 Joined

Jun 23, 2003
Messages

187
Okay, I''m definitely going to upgrade my diamond to between .75 and 1.00cts, (changing from a family diamond shown below of a little under 1/2ct.) What I''m trying to decide is whether to set a larger stone in the existing ring, (which is not original or antique,) or to change to a different setting. I will post the other setting next.
Does anyone have an opinion about whether this setting could accomodate a 3/4 to 1ct stone? And which do you prefer, look-wise? I do have fairly small hands and long fingers. (My ring-finger size is 4 1/4.) I like the idea of the bolder yet still delicate and detailed setting in the next post, (which by the way is shown with a 1/2 carat stone as well, so the proportions will be different with either setting.) But I''ve read so much on here about a narrower band showing off the rock better, which is very true.
Please help me! I can''t decide!
-Melissa