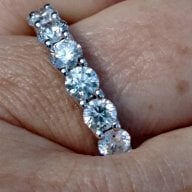 Joined

Dec 17, 2008
Messages

25,985
What are the chances that a 5.5mm stone will fit in a setting that is currently holding a 4.9mm stone (I will try to post
a picture). If it makes any difference the stone is held in with 3 prongs.
Also, what are normal treatments for a zircon? How about heating? I found a stone I like and it says that it is heated. Is
that a no-no for a zircon? Its a lovely light blue.