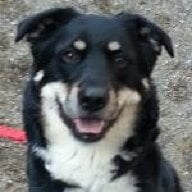 Joined

Apr 27, 2007
Messages

1,546
Hi everybody! I hope everyone is having a nice, relaxing weekend. Matt watched football all day while I read and halfway watched football, and then we went out for pizza for dinner. I wish I didn't love pizza so much, but I do. I've learned to be happy with fewer slices and a big ole side salad. We're heading home tomorrow, and I think I'll feel so much better when I see my mom. She's having a slumber party with my 3 nieces tonight, so she must be feeling pretty good.

Lisa - lousy parasites! I hope the dog is feeling better. I swear when Lily was sick, she acted embarrassed when she would have an accident in the floor. She would give me the saddest look with her tail between her legs every time. The vests sound like a good idea. Matt and I always walk late in our neighborhood, but there are no sidewalks so we're walking in the road. Luckily there isn't much traffic.

marcy - my neck is really arthritic from my accident, so my wonderful haircut lady bought a special cushion for the sink for me. Without the cushion, that sink is killer! I can't turn my head very far to the left at all anymore - it just won't go, and it hurts to turn very far to the right. I absolutely love the backup camera on my car. I test drove the Acura MDX and RDX on the way home from work yesterday. The MDX is too big, but the RDX and I bonded! It was very comfortable and easy to drive, and comfort is the name of the game in my world. I got stuck on the interstate again Thursday for an hour and a half, but Matt wasn't with me so I couldn't read or play Angry Birds! Drat!!

I'm off to take a walk and then to give Lily a bath. Have a great day tomorrow!