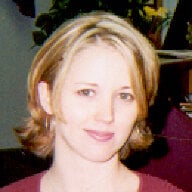 Joined

Feb 23, 2003
Messages

424
In all this great fun I have had in trading and getting a new stone to set - I also decided to clean up a necklace I have that I received from my Great Aunt, oh about 23 years ago now. It had 4 small (maybe .25ct each) diamonds enlayed in a yellow gold chain with the diamonds in little cups. I was just 4 years old when I got it. (Oops, I gave away my age now, damn)

(hence the 4 diamonds for 4 years old)

She had it made when a watch she got from her husband was too big, so she had a few links removed. Ya, a diamond watch (!!??) - she is a LUCKY woman who also has a 4ct Round Brilliant in a Platinum setting with a baguette on each side, not to mention the rest of her jewelry collection is amazing... but nevertheless - she loves her great niece!

So I took this out of hiding and cleaned them up and decided that they are truly beautiful stones and when the time comes and I get my diamonds set in the setting my man picks out for me (hopefully platinum with a pear shape on each side, hint hint) - I am going to use 3 of those diamonds to make my wedding band (with 1 pear on each side too) - and use the other one to put in HIS band. That way a sentimental reminder of my wonderful Great Aunt will be with me and him forever in a special way.

Aren''t I just such a smart, sappy cookie?? Hee-hee!
But hey - the way I see it is, my "beau" is getting off REALLY easy with most of the work already done for him here! Not all girls are this savvy I tell you!!!

Anyways - I just had to share this great idea I had with some people who will appreciate it!